#COVID-19 Customer Update
Nov 22nd 2021
With Auckland in a level 3 lockdown we are unable to currently operate our tours. If you have a booking with Ananda Tours, we regret we won't be able to welcome you until we return to the new traffic light framework. Our reservations team are working remotely so they'll be in touch to discuss your options, which specifically are:
1. A rebook to an alternative date, or
2. A full refund, or
3. An exchange to an open-dated gift voucher, valid for two years.
If you wish to contact us during the lockdown please send an email to [email protected] and one of our team will be in touch as quickly as possible. We are checking emails between 9-12pm daily and then intermittently during the rest of the day. If it is urgent we are still answering the phone but it is diverted to a mobile and cell phone coverage on Waiheke can sometimes be patchy.
Based on the current guidance we will be able to begin operations again once Auckland moves over to the new traffic light framework. Until then it may take us a little longer than usual to respond to your query, but rest assured we will be in touch.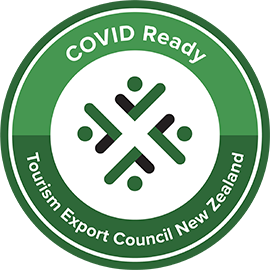 When we resume tours Ananda Tours will be operating shared group and private tours with increased health and safety measures to keep you safe.
We have adapted the way in which we operate, in order to operate safely:
We will be requiring all our guests, aged 12-years or over, to be fully vaccinated and to provide a COVID 19 Vaccination Pass from My Vaccine Pass. If you do not have proof if your vaccinations, you will not be allowed on the tour and will not be eligible for a refund (unless you are exempt, with government approval).
Our guides are all fully vaccinated.
Please note that whilst it is not a legal requirement, we advise that you wear a facemask in our vehicles and whilst walking around public spaces. Facemasks are required when travelling on the ferry.

Our guides will not engage in physical contact with guests, we will use an alternative welcome.

Please use the COVID tracer app onboard the vehicle and at each of the venues we visit.
All vehicles will undergo increased high levels of cleanliness and hygiene practices, in order to prevent spread.
Guests are advised to practice regular hand washing and sanitising, we will provide sanitiser on board our vehicles.
Guests to abide by physical distancing of 1 meter when out of the vehicle, respecting other people's space and safe space.
Each guest will need to ensure they have no symptoms of COVID 19, prior to travelling.
We are working hard to ensure that new regulations do not alter your experience of Waiheke. We are confident that we have achieved this and look forward to showing our island paradise to you, under the above restrictions.
To find our more about the vaccine passport please visit The Ministry of Health Website.