Sculpture on the Gulf 2022
The biennial art and nature event is back for 2022! This outdoor sculpture exhibition draws thousands of people to Waiheke to experience world class art set amongst truly breath-taking scenery.
The dates are now set for the next installment of the biannual Sculpture on the Gulf. The event will take place between the 4 – 20th March 2022.
First held in 2003, the aim of the exhibition was to create the very best outdoor sculpture exhibition in New Zealand and to make Waiheke Island a world renowned destination.
The works were to be new, unexpected, daring, original and never before seen. 
 As well as being complementary to the unique and spectacular location. Thousands of visitors ranging from art lovers to fun lovers, flock to experience this potent mix of sculpture and landscape. That first exhibition lasted two weeks and attracted some 12,000 visitors to Waiheke Island.
Set amongst some of the most magnificent coastal landscape in the world, the undulating walkway, which snakes its way around the headland from above Matiatia towards Church Bay on Waiheke Island, has served as a temporary home for pieces created by a who's who of New Zealand art.
Giant rambling pōhutukawa, pockets of native bush and pebble-strewn beaches provide niches for sensitively placed works of art, made with this exquisite location in mind.
The walk itself is approximately 2km and takes around 1.5 to 2 hours to enjoy as you meander along taking in the magnificent views over the Hauraki Gulf. It is a moderate intensity walk so a reasonable level of fitness is required, but feel free to go at your own pace.
We recommend bringing plenty of water and wearing sun screen. The event is also a waste free event so ensure that whatever you bring on the walk goes home with you to keep our Island looking beautiful!
Transport is usually available to and from the starting point or you can walk from Matiatia Wharf, where the Waiheke ferry arrives.
If you wanted to make a day of it and stay on the Island for a well earned vineyard lunch and a visit a few vineyards in the afternoon you can time the walk to join up with our Half Day Scenic Wine and Lunch Tour or our Afternoon Artisan Tour. Alternatively we can design a personalised itinerary to suit you with our Customised Private Tour option.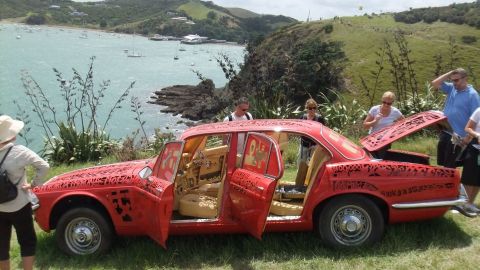 What our other guests have said
10/10 Jenny did a fantastic job and such an incredible host. Accommodating, caring and local- would recommend
Alysha Phillips
Wine lovers take note This tour ( Gourmet Wine and Food ) exceeded all expectations. Steve, our guide and driver, was superb. His commentary was informative and interesting. The van was comfortable and immaculately prepared, The wineries we visited were all top notch and the service got there...
Pining F, New Zealand
A perfect get away treat, even if it was just for a day and only a 40min ferry ride from Auckland. A small group of 10 strangers and a delightful guide, we experienced food pairing with wine at 4 wineries. I'm not a big fan of wine but the tour was informative, I found I liked a type of...
Jenifer M
Read More